72 Orange Challenger Rallye

1972 CHALLENGER RALLYE
SOLD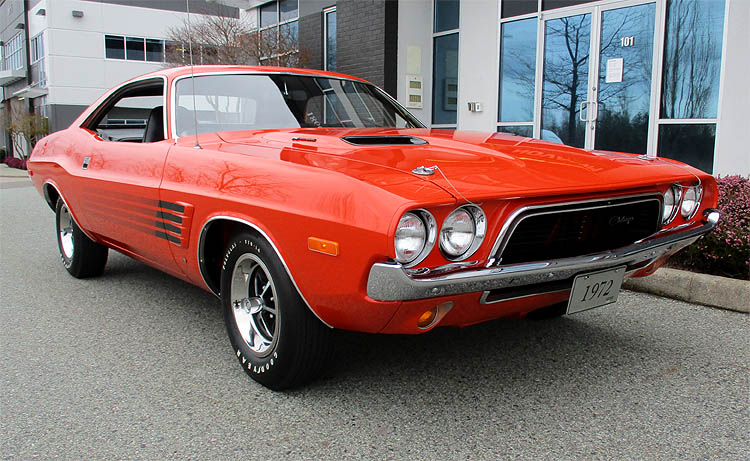 1972 DODGE CHALLENGER RALLYE, JS23H, 340/240HP, Pistol Grip 4 speed, 3.23:1 Suregrip axle, power steering, Rallye suspension, HD rad, buckets, Rallye dash, Sport hood, hood tie downs, factory tach, clock, Tuff wheel, chrome exhaust tips, 3 speed wipers, glove box lock, electronic ignition, wheel lip moldings, Music Master AM radio, day/night mirror, tinted glass, W 21 Road wheels, Goodyear Polyglas tires, chrome exhaust tips, EV2 Hemi Orange, Black interior, Black Strobe stripes.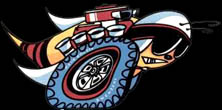 In the early 70's Chrysler Division went to work creating one of the most iconic U.S. performance cars to roll off a showroom floor, the Dodge Challenger. A by- the -numbers, nut and bolt rotisserie restoration with absolutely no expense spared, every effort was made to make this Scat Pack dream accurate to day one new from it's High Impact exterior color right through to its Goodyear Polyglas tires. Highlights for this particular Challenger Rallye include: Concours level fit and finish, pristine date coded glass, show quality chrome and exterior stainless, flawless original X9 black interior, absolutely like new undercarraige, original numbers matching drivetrain professionaly rebuilt to stock standards, complete documentation from day one, 38000 original miles and original sheet metal to name a few. And with only show miles driven since restored, everything is mechanically sorted and in nothing less than perfect working order from its factory tach down to its original Solid State AM radio.
The H Code Challenger Rallye was near the top of the muscle car charts in 1972 because of its driveability and long list of factory performance options. This particular Challenger has a virtual laundry list of factory issue options some of which include; H Code 340 engine, Hurst 4 speed, Suregrip axle, in dash 8K tach, Tuff steering wheel, 150MPH speedometer, Rallye suspension, chrome exhaust tips, power steering, Rallye dash, hood tie downs and desirable High Impact Hemi Orange exterior color to name a few. As well, from a documentation standpoint you won't find a more authenticated 72 Dodge Challenger that includes it's 2 original issue Chrysler Broadcast Sheets, original Dealership Bill of Sale, Chrysler Warranty Card, Owner's Manuals, Consumer Information Sheet, Carburetor tag, Engine Tag, and Hamtramck Fender Tag. From its originality to it's show car condition level, this is the absolute best of the best for anyone looking to own an out and out 5 star collectible from Dodge Division's performance lineup for 1972, the Challenger Rallye 340. This Challenger is part of a private collection and would make an excellent addition to any high end Mopar collection for the serious buyer. Private Sale. Buyers are always encouraged to call us direct to answer questions or to assist with purchase arrangements at (604) 617 2225 or Email us at detroit60cars@aol.com Terms and conditions: Vehicle is sold as is with no warranty implied unless otherwise stated in the description.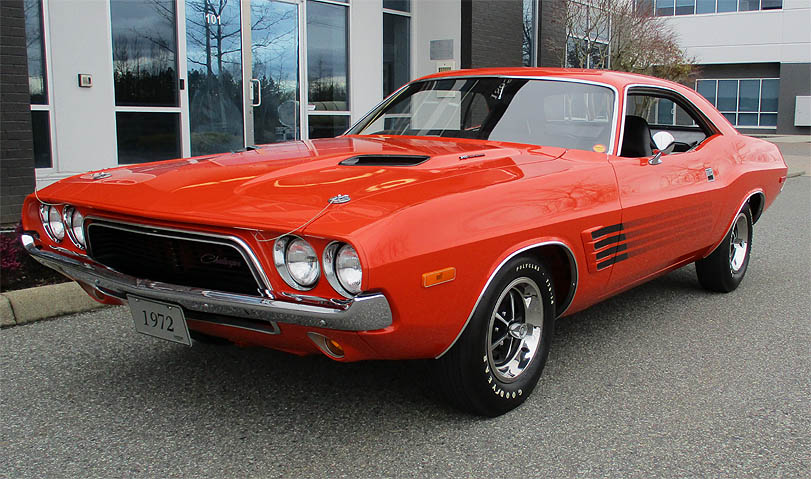 Conservative wasn't in the mindset of Chrysler stylists when they formulated the Dodge Challenger that has the look of a space age SCCA racecar. Restored with a perfectionists attention to detal down to the last undercarraige fastener, this Challenger is the very definition of a show car that looks that looks runs and drives as good as it did the day it left Farrell Chrysler in 1972.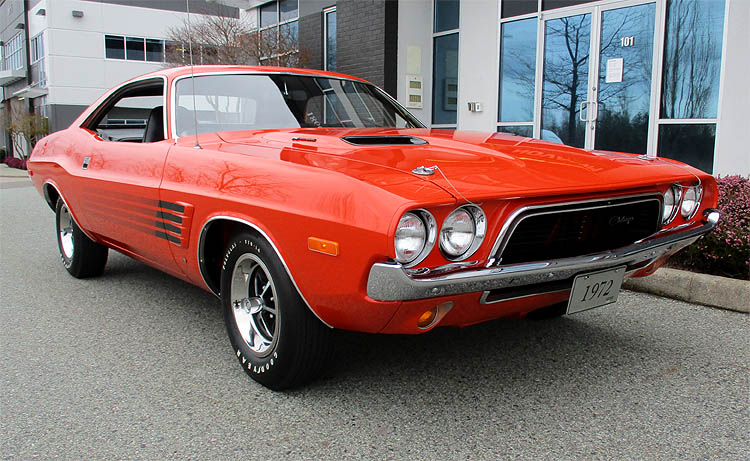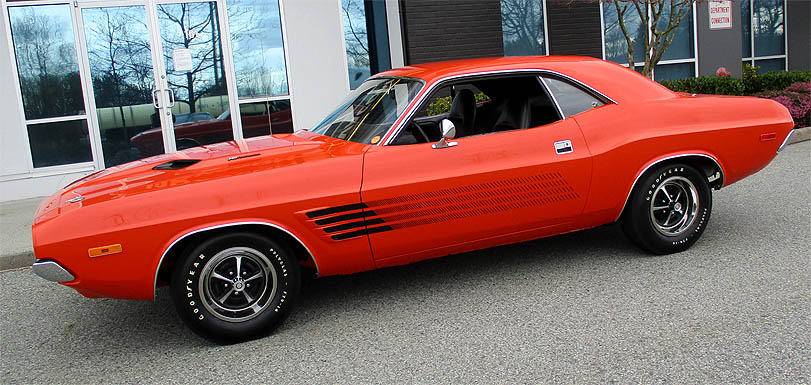 For the driver who liked to finess the road, the 72 340 Challenger Rallye was an excellent street package that lost nothing to the earlier big block version in terms of handling and overall performance. Some of the performance options on this particular E Body include: 3:23 Suregrip axle, handling package, Polyglas tires, chrome Road Wheels, Rallye dash with 8K tach, Sport hood, Tuff wheel, hood tie downs, specialized E55 340 engine and D21 4 speed transmission.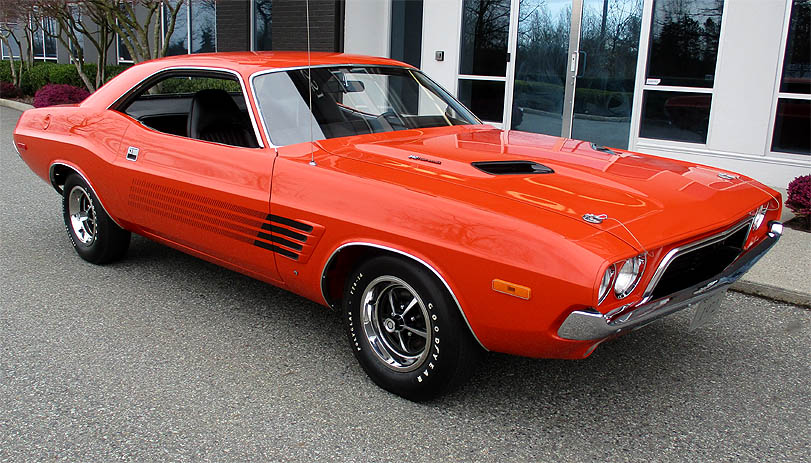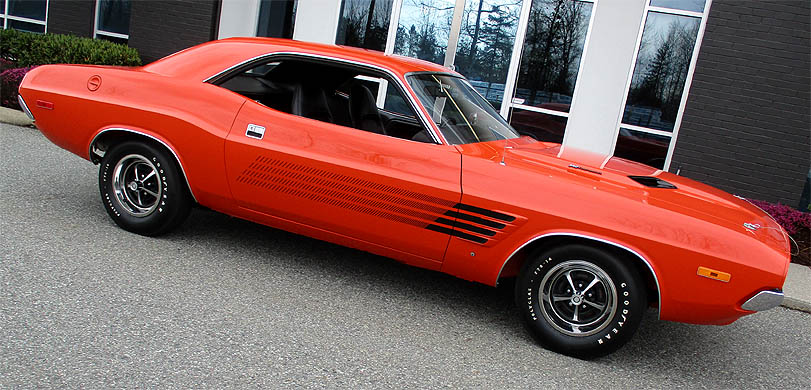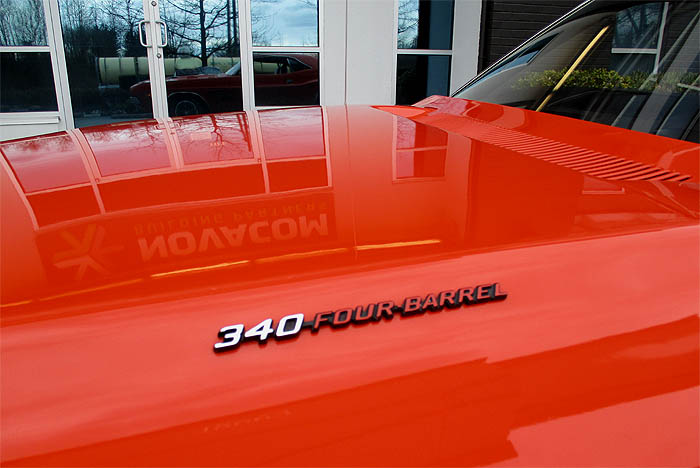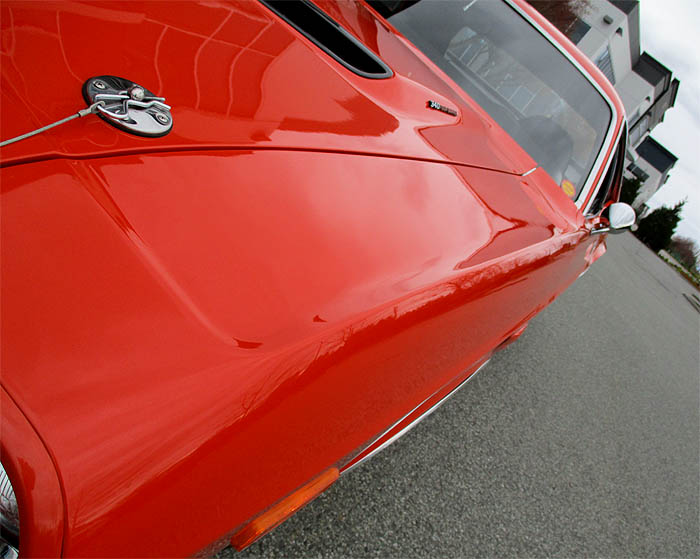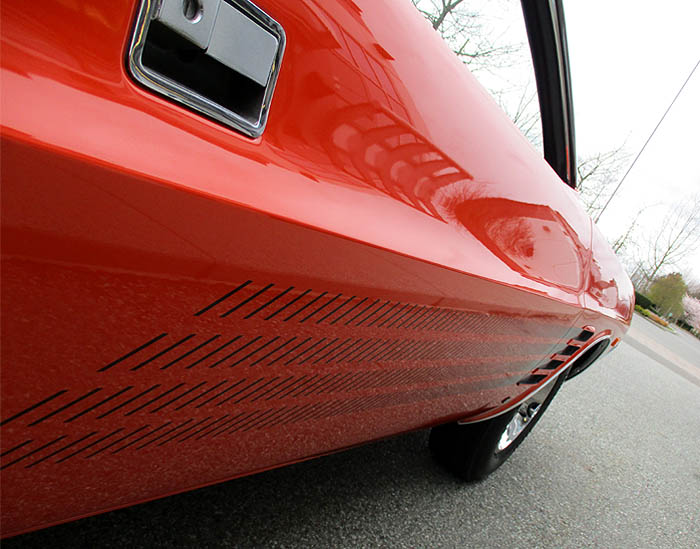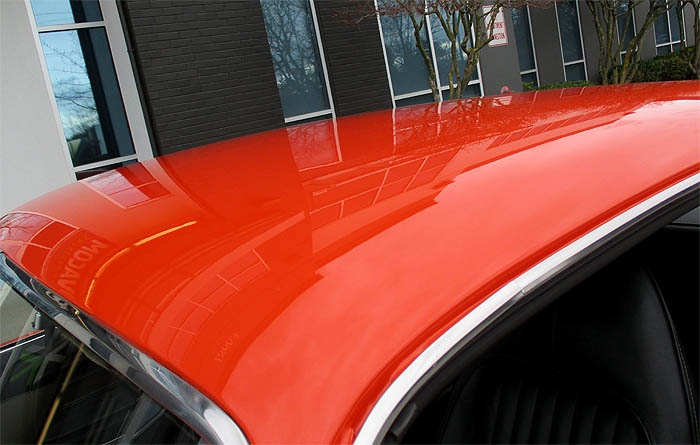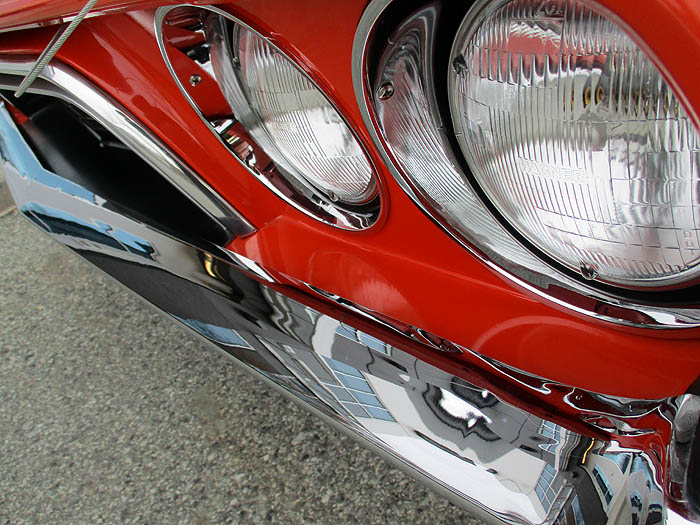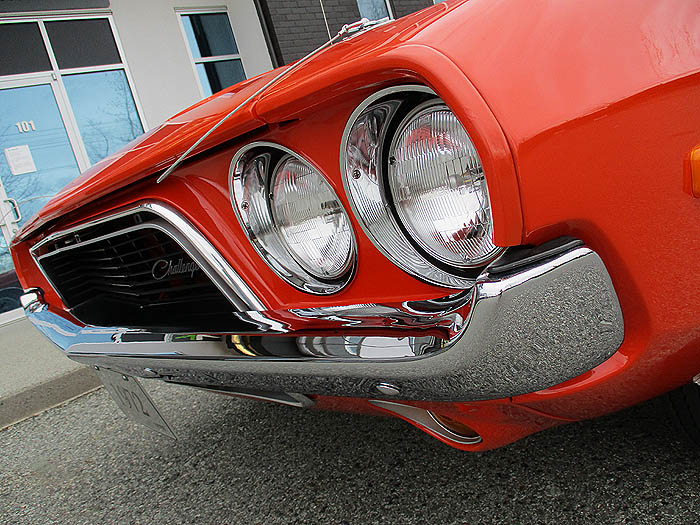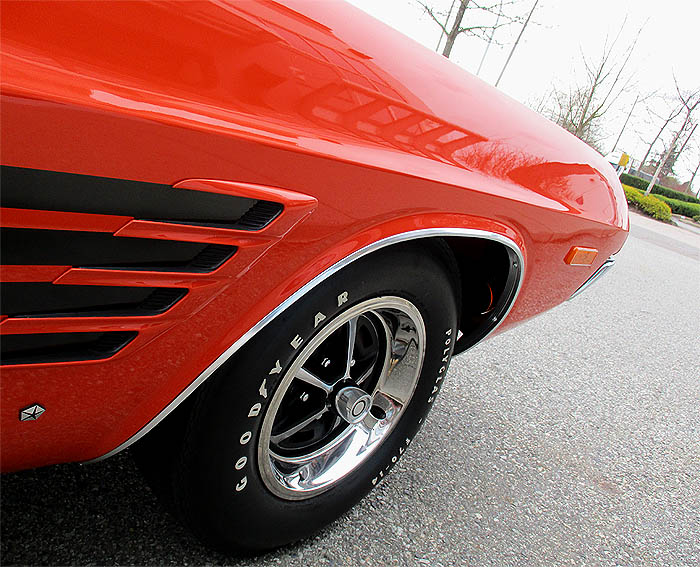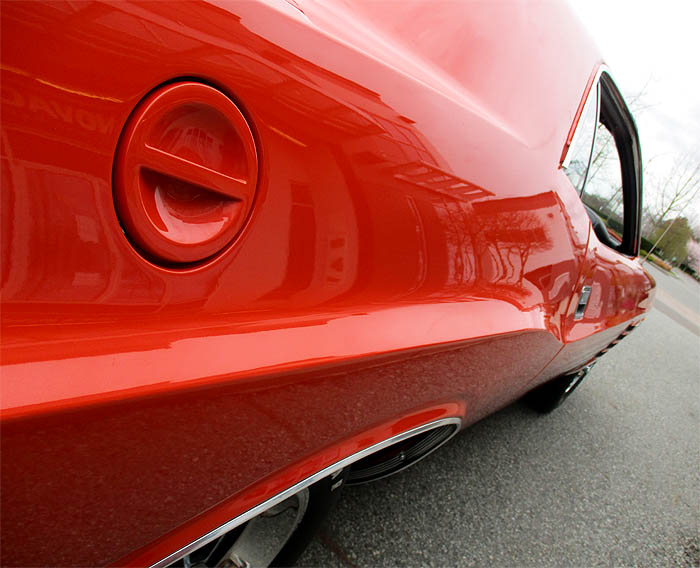 This Challenger has all the bases covered from a restoration standpoint including the paint finish that's been show quality PPG/Base Cleared in its original High Impact EV2 right through to the underside of the doors. Perfect date coded glass and triple plate exterior chrome finalize an exterior package that literally looks like a rolling house of mirrors.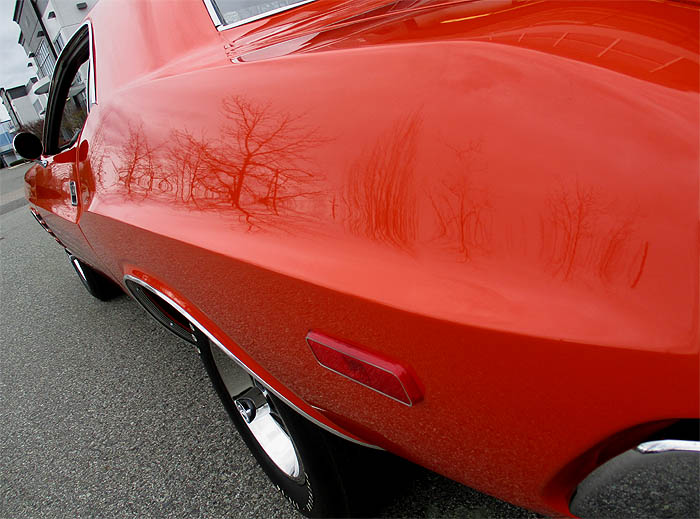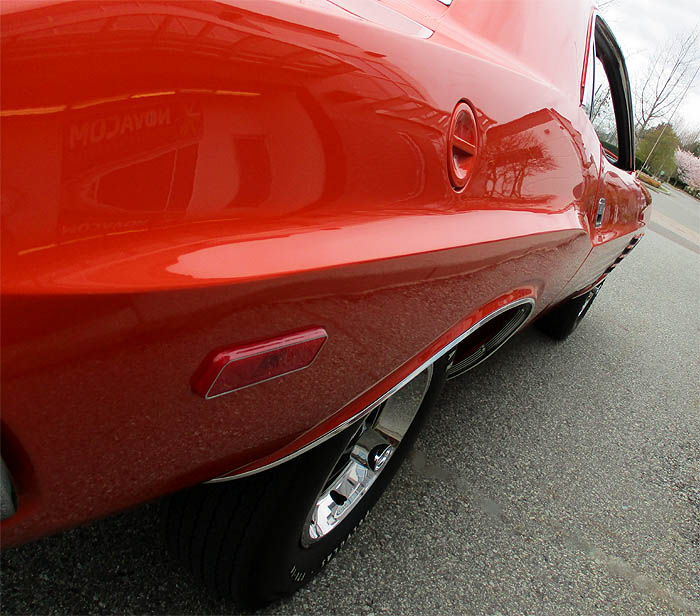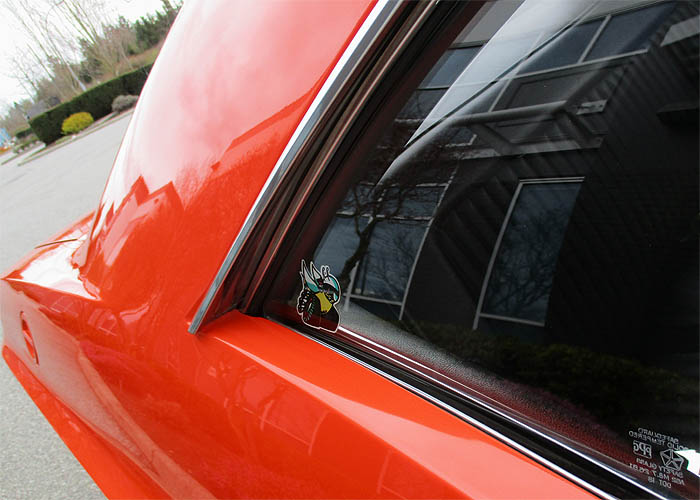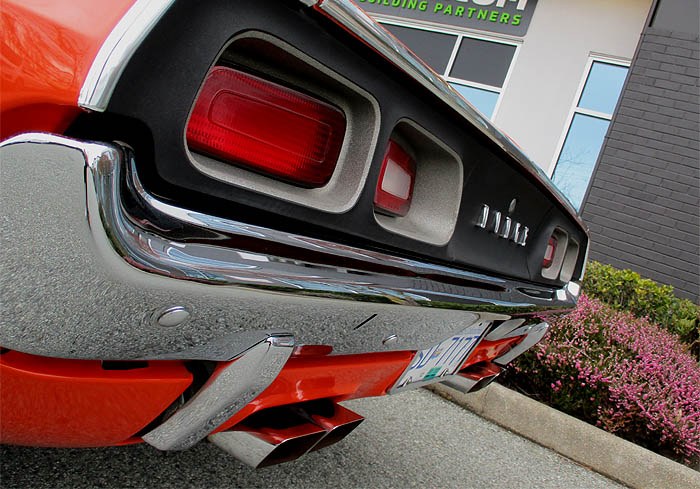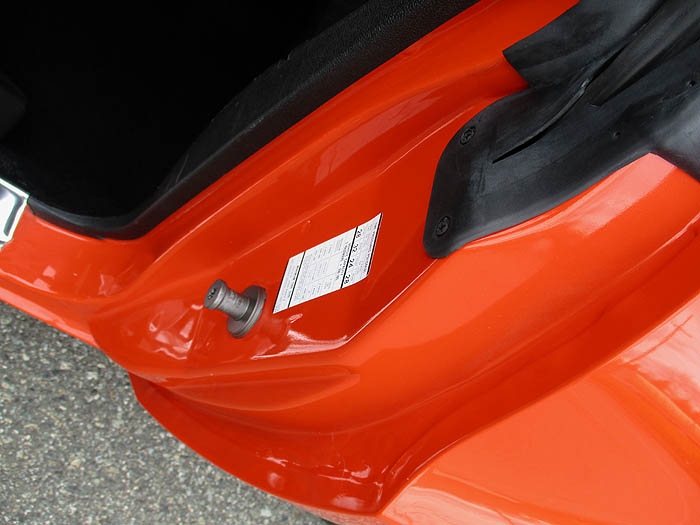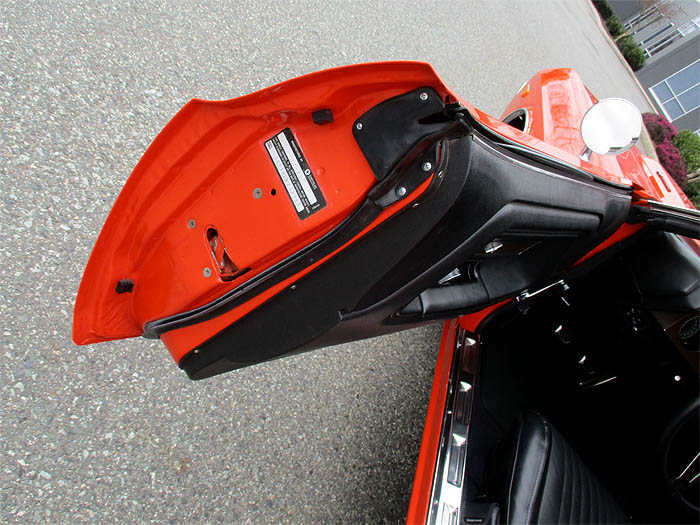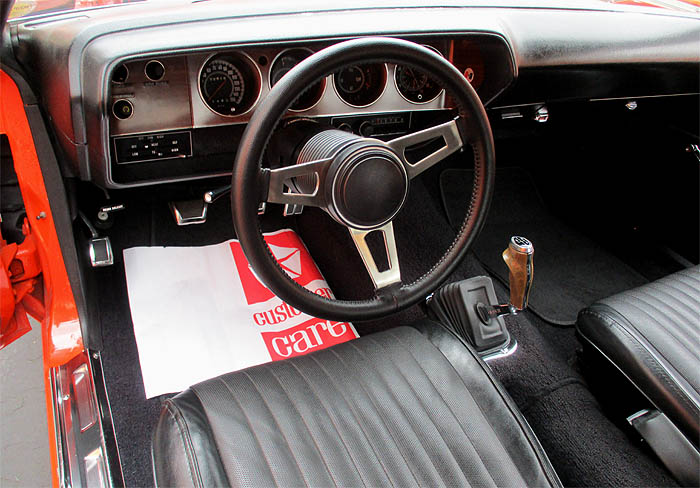 This interior matches the rest of the car and is absolutely like new from headliner to carpet with everything in working order from it's Rallye guages down to its original issue pushbutton solid state AM radio. Some of the options here include: S84 Tuff wheel, pedal dress up, Day/Night mirror, Rallye dash, factory tach, S77 power steering, glove box lock, and Hurst Pistol Grip 4 speed.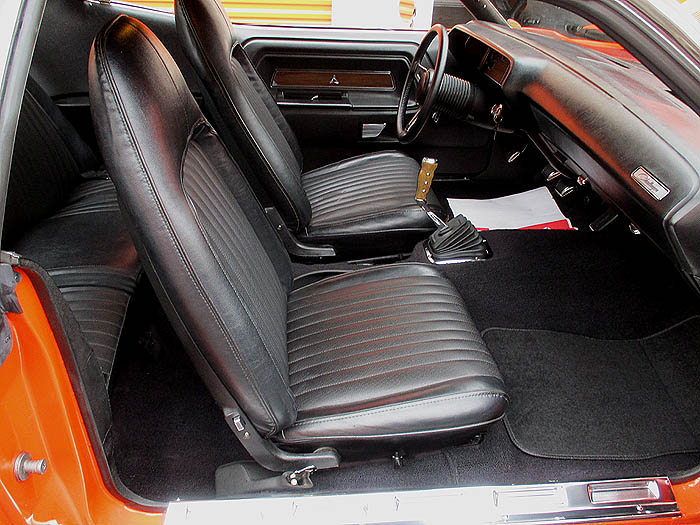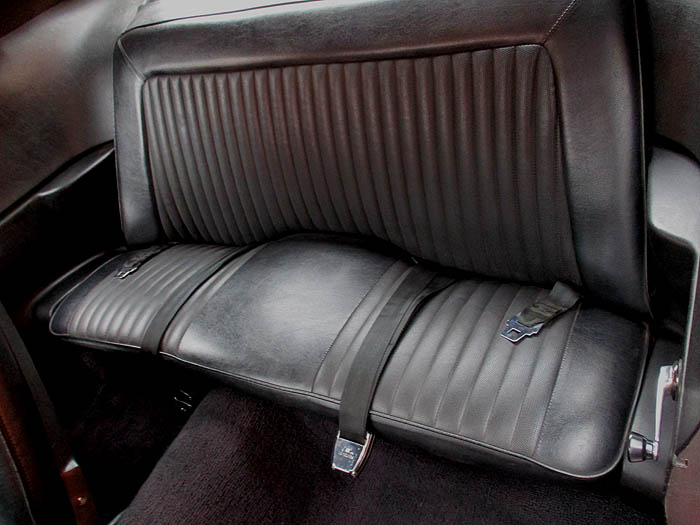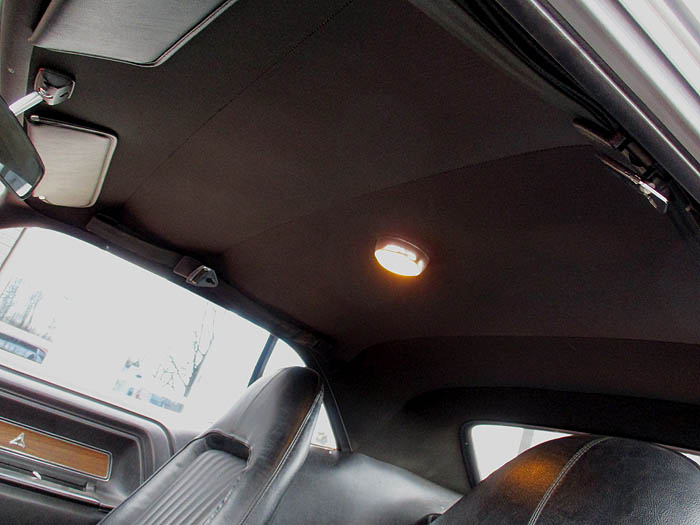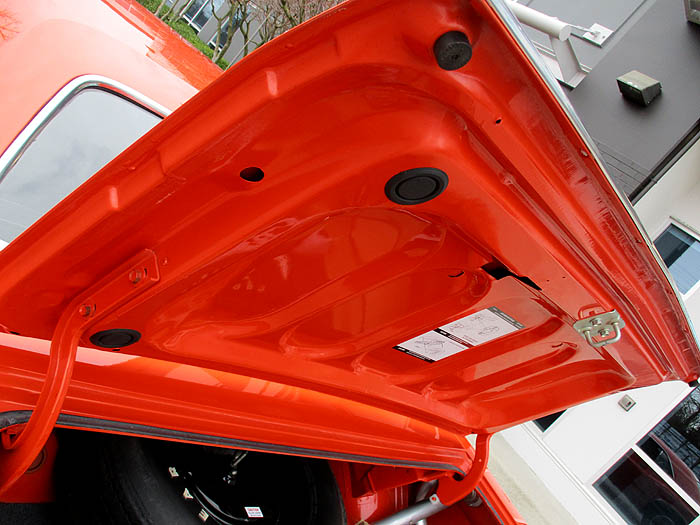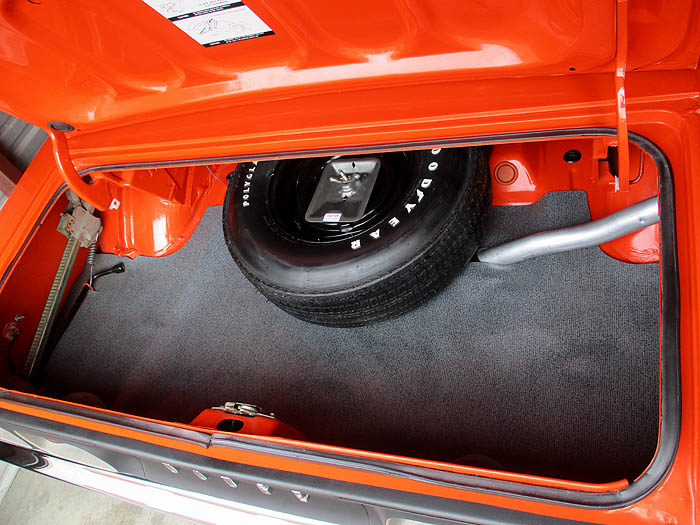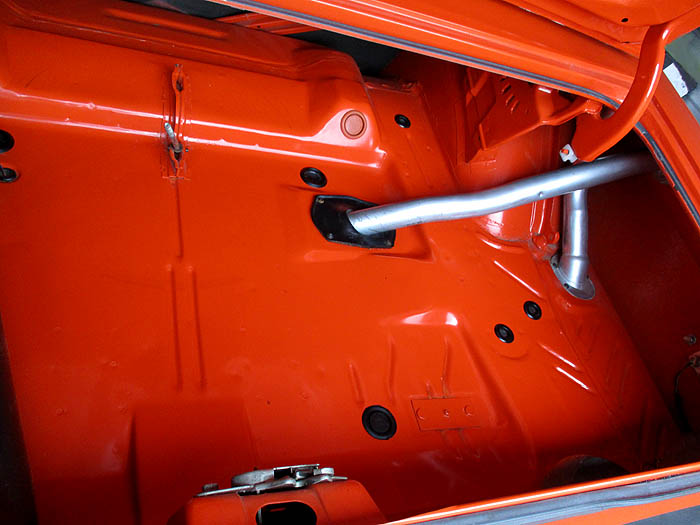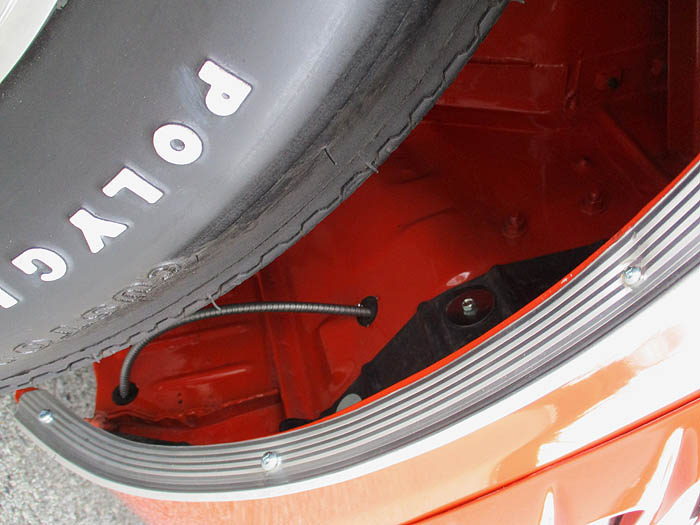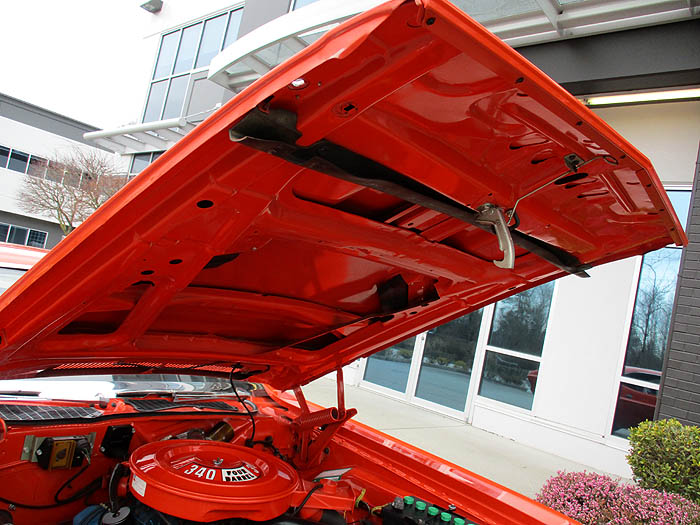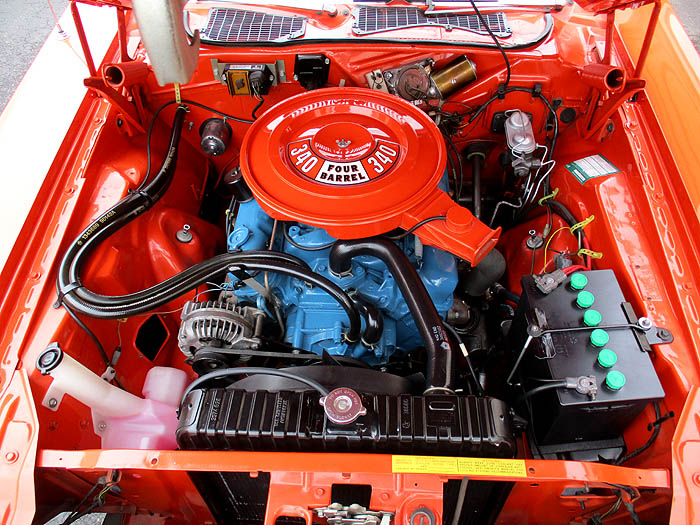 An absolutely showroom new engine bay is home to its original born with numbers matching 340/245 HP engine that retains all of its original issue H Code hardware from its exhaust manifolds down to its Carter TQ6138S 4V carburetor. Professionally rebuilt to absolute factory standards, this engine starts, runs and drives like an absolute dream with no issues whatsoever.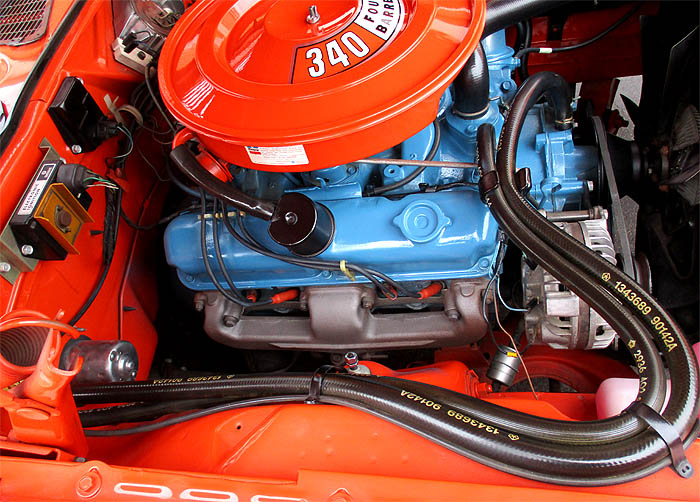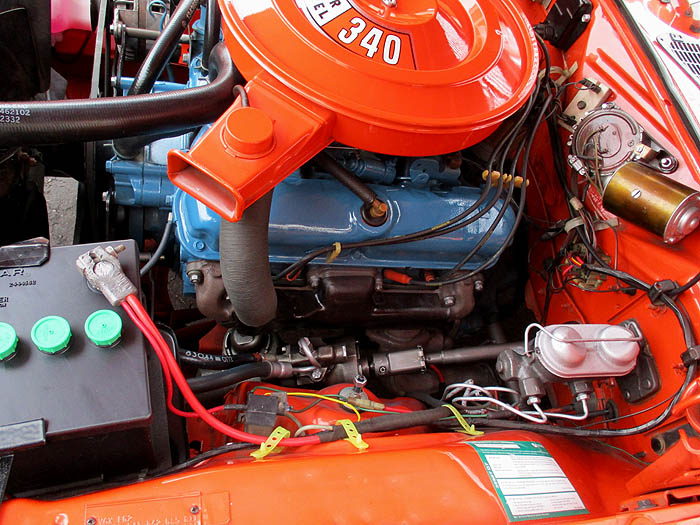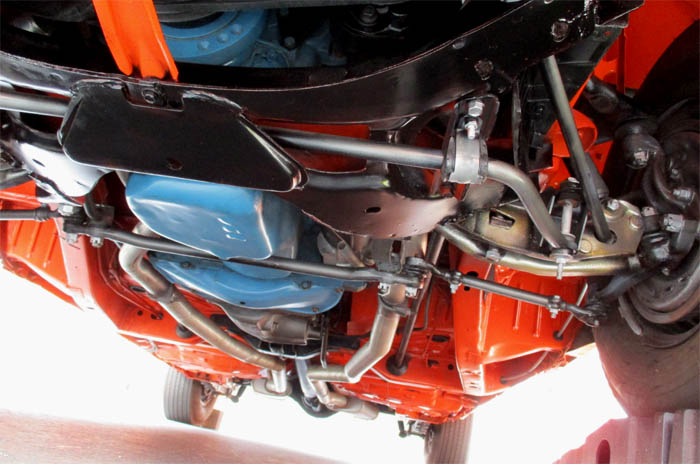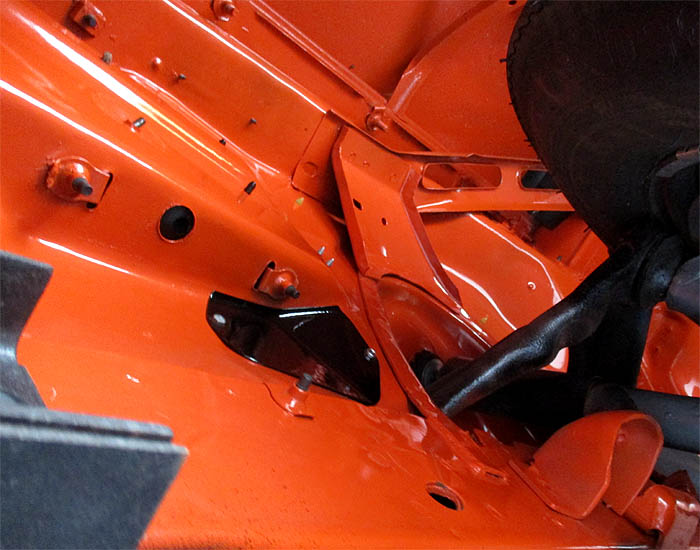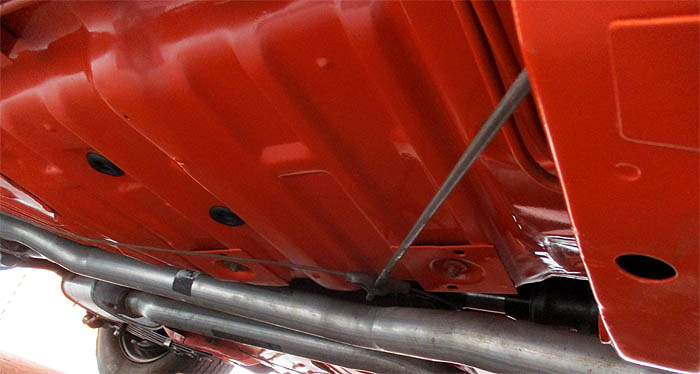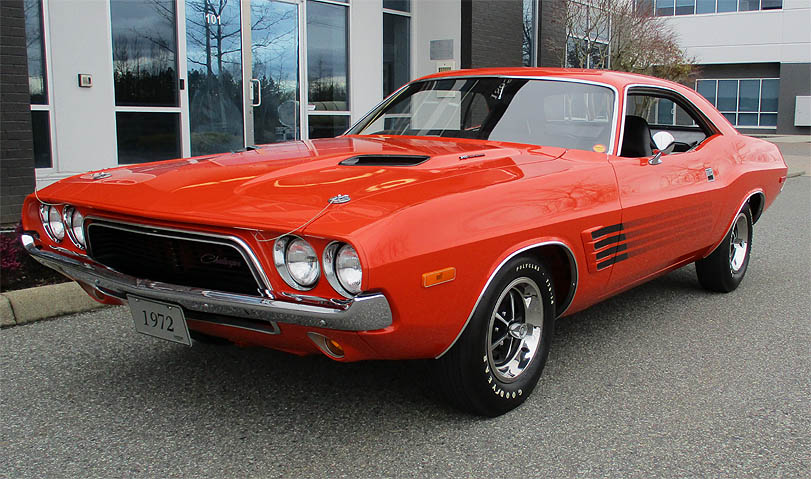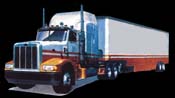 Fast shipping arranged
to anywhere in the world
Contact:
Email: Detroit60cars@aol.com
Business Hours: Monday - Saturday 9am to 5pm Pacific Standard Time. Closed Sundays.
Sales Phone: (604) 617 2225
Copyright 1998 Detroit60.com